Diversity is Key to the Success of the Publishing Industry
There are about a million different trends that have passed through the publishing world. Some have stayed and transformed into genres of their own, such as Young Adult, while others have phased out, like vampire romance novels. In my last blog post I spoke about the importance of knowing trends and predicting them. However, I now want to talk about a "trend" that has been dominating the industry in recent years and doesn't seem to want to fade out. Diversity is becoming key within every published book, meaning that one day, it could be the expected norm of the publishing world.
Why Does Diversity Matter?
It's hard to answer this question if you've been represented in the media your entire life. It's not bold of me to claim that white, straight men have dominated the world that we read and watch. And it was only recently that women were given the opportunity to be the heroes of their own stories. So when we talk about why diversity is important, those that have been in the spotlight need to take a step back and examine how disjointed the balance has been.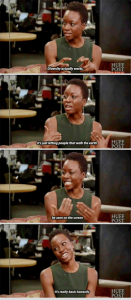 There are countless races, sexual identities, upbringings, etc. that have been overshadowed. People of color, the LGBTQ+ community, immigrants, and women, have been constantly overlooked, and it can be hard to never see yourself on the big movie screen, be a star in a TV show, or even reading a book that is not completely relatable. In the image to the right, Danai Gurira (an American-Zimbabwean actress who has starred in The Walking Dead and Black Panther) has the best response to the diversity push. She says, "Diversity actually works. It's just letting people that walk the earth be seen on the screen. It's really basic honestly."
The world "diversity" simply asks that all races, genders, sexual identities, have an equal representation in books and media, just as they do in the real world. The world is diverse, there's no way to deny that. Showing a wide range of different people is just a way to accurately display the world. For the publishing industry, this means that a large audience finally seeing themselves portrayed in novels will be excited to read books that show who they are. That simply means: sales would rise and business will boom. When books show a hero that represents them, they will be much more inclined to buy that book and read a story they can better relate to.
Young Adult Continues to Lead the Way for Diversity
The genre of "young adult" is still fairly new considering the variety of genres around today. First coined in the 1960s, it was meant to represent ages 12-18, with books like S. E. Hilton's The Outsiders taking center stage. Since that point, it has been setting the trends for the publishing world. With themes of being misunderstood, drugs and alcohol, and the culture for teens in the world, the first wave of young adult was prevalent in the literary world. Then came the overwhelming success of the Harry Potter series, by J.K. Rowling, which popularized fantasy novels. This allowed for the incredible success of Stephenie Meyer's vampire romance novels, the Twilight series, and the dystopia themed novels, such as The Hunger Games by Suzanne Collins.
This leads me to my next point. The growth and success of the publishing industry rests a lot in the young adult genre and the trends they are setting. There are numerous books in other categories that have had a whirlwind of success, of course, but none that have dominated the world, media, and society as much as those three series listed before had. For example, the second to last Hunger Games movie, Mockingjay: Part 1, was banned in China and Thailand amidst fear of a real-life revolution.
So how does this relate to diversity, and why should we look specifically at young adult novels? In the past few years, there has been a growth in the young adult section of publishing, and that is largely due to the growth in books with diverse leads. Consider the movies and books that are popular among young adult readers today. The tremendous success of the Netflix movie, To All the Boys I've Loved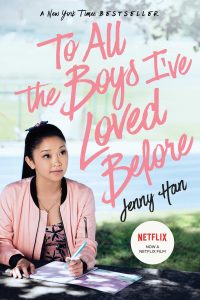 Before, based on a book with the same name by Jenny Han, stars a half-Korean (half-Caucasian) young girl. It was so successful, that a sequel was announced only four months after the first was released.
The Hate U Give, by Angie Thomas, boasts a 96% Certified Fresh on Rotten Tomatoes and has spent an incredible 86 weeks on the New York Time Bestsellers list. It tells the story of a young African American girl who has seen a police officer kill her friend, a story that is very in touch with the Black Live Matter movement happening today. It relates to many young African American individuals who feel the threat of police brutality in their daily lives.
Even the critic consensus is something to note: "The Hate U Give emphatically proves the YA genre has room for much more than magic and romance."
That being said, let's give some credit to a magic and romance novel that has done incredibly well in the Young Adult category: Children of Blood and Bone by Tomi Adeyemi. As a Nigerian-American novelist, her first published book has found an unbelievable amount of success, with all her characters representing her Nigerian heritage.  Coined as the "next J.K. Rowling," her novel has spent 36 weeks on the NYT Bestsellers list. She was also on The Tonight Show Starring Jimmy Fallon as his first Summer Reads choice book. Her novel was bought by Fox to be made into a movie even before it was published.
To talk about a different form of diversity, the book Simon vs. the Homo Sapiens Agenda, by Becky Alberalli, talks about a high school boy's coming out to family and friends.
The book was transformed into a movie, Love, Simon, and has been shown tremendous support from critics and fans alike (a 92% Certified Fresh and 89% Audience Score on Rotten Tomatoes).
The Bottom Line:
More Diversity = More Success = Growth in Publishing
The #WeNeedDiverseBooks movement has shown that there is an increase in diverse books in publishing, but there is still so much more that could be done. According to a study by Lee & Low Books, there has been a substantial increase in diverse books in 2017 compared to 2016. Of those books released in 2017, there were numerous awards given out to authors of color, "including a Newbery Medal for Erin Entrada Kelly, a Newbery Honor for Jason Reynolds, Renée Watson, Derrick Barnes and Gordon C. James, and a Morris Award and Printz Honor for Angie Thomas." However, it is shown that the number of people of color that have published books last year is only 7%. The goal now is to give people of color the opportunity to write their own stories, since it has proven that it can be incredibly successful,  considering all the books I listed before have authors who represent with their characters. And when books sell and are made into movies, the publishing industry soars. At BookExpo America, an entire panel discussed how publishing diverse books was crucial to the future of publishing. In the panel description, "Publishers, editors, reviewers, bookstores, and libraries that ignore America's increasing diversity, do so at their own financial peril." 
TL;DR
Diversity is good, both morally and economically. It allows the publishing industry to continue to grow and still be economically successful. It also represents a social norm that allows for inclusivity and a broader understanding of different upbringings and lives. The success of young adult novels have shown the publishing industry that it is in their best interest to publish diverse books.